Nestled against a bend of White Oak Bayou, and surrounded by rich Houston history, lies Olivewood Cemetery, the city's first incorporated African American cemetery. For years it remained a jungle – the headstones buried under massive carpets of vegetation while only the larger mortuary architecture rose above the undergrowth hinting at Olivewood's location. Extending over an estimated 8 acres, only the front quarter of the cemetery had been successfully cleared of the seemingly endless foliage.
As more acreage of the cemetery receives regular maintenance and care, we will be pursuing a program of plot and walkway beautification. Time, nature and vandalism have taken a toll on the historic headstones of Olivewood. Their restoration is of primary importance to us. While we improve the grounds, we will be working to raise the funds necessary to professionally restore these artifacts of Houston's history.
Descendants of Olivewood, Inc. is dedicated to the reclamation of this cemetery for the benefit of present and future generations of Houston, Texas. We are committed to restoring, preserving and maintaining Olivewood Cemetery as a historic, educational, charitable, religious and cultural site of importance.
History
Olivewood was incorporated in 1875, a mere 10 years after emancipation arrived for Texas slaves when, on June 19, 1865, General Gordon Granger debarked in Galveston and made the official announcement a couple of months after the actual end of the war. The cemetery, the people who incorporated it and the people now resting in it are part of a much larger history of Houston and its African American community.
A number of Houston's prominent African Americans are buried in Olivewood, including:
Elias Dibble, the first black ordained Methodist minister in the country and founder of Trinity Methodist Church. Dibble began life as a slave and arrived in Houston as one of the many freed slaves seeking opportunit
Wade Hampton Logan, also an early pastor of Trinity and a presiding elder for the Navasota and Marshall Districts of the Methodist Church.
James D. Ryan, philanthropist, educator, and community leader, was born in 1872 and served as the Dean of Education in Houston.
Dr. Charles B. Johnson, also known as The Singing Dentist and author of Houston's Bicentennial song 'Houston is a Grand Old Town,' written in 1927 but performed in 1976.
Each of these men are accompanied by the remains of hundreds of their fellow community members who lived and worked alongside them as shopkeepers, seamstresses, laborers, educators, preachers, mothers, fathers, sons, daughters and soldiers. For more information on these men and women, visit our Cemetery Records database. A more complete list of notable interred will be coming soon!
Education
We have already hosted several very successful walking tours of Olivewood Cemetery. Our plan is to continue with informal tours, but also develop a more formal tour schedule, focusing on the histories of the Houstonians interred in Olivewood, African-American symbolism and burial practices, native flora and fauna, and other interesting historical information.
We have gathered materials about the history of Olivewood, the stories of those interred there, and the work that has gone into its restoration. Please contact us if you are interested in bringing the history of Olivewood to your library, school, church, or civic organization.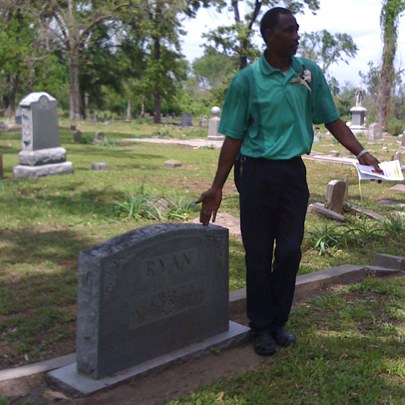 Visiting Olivewood & Volunteering
While almost every weekend you may find Descendants of Olivewood out at the cemetery cleaning or working on other projects, we suggest you email us to make an appointment. Please do not attempt to visit the cemetery after hours. Hours are dawn to dusk.
Visit our contact page for a map and directions to Olivewood Cemetery. We also invite visitors to volunteer with us and help make a difference in preserving a part of Houston's history.