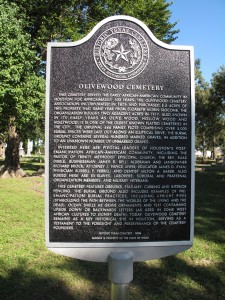 Transcription:
This cemetery served the early African-American community in Houston for approximately 100 years. The Olivewood Cemetery Association incorporated in 1875 and purchased 5.5 acres of this property that same year from Elizabeth Morin Slocomb. The organization bought two adjacent acres in 1917. Also known in its early years as Olive Wood, Hollow Wood, and Hollywood, it is one of the oldest known platted cemeteries in the city. The original 444 family plots comprising over 5,000 burial spaces were laid out along an elliptical drive. The burial ground contains several hundred marked graves, in addition to an unknown number of unmarked graves.
Interred here are pivotal leaders of Houston's post-emancipation African-American community, including the pastor of Trinity Methodist Episcopal Church, the Rev. Elias Dibble; Businessman James B. Bell; Alderman and landowner Richard Brock; Attorney J. Vance Lewis; Educator James D. Ryan; Physician Russell F. Ferrill; and Dentist Milton A. Baker. Also buried here are ex-slaves, laborers, sororal and fraternal organization members, and military veterans.
This cemetery features obelisks, statuary, curbing and interior fencing. The burial groudn also includes examples of pre-emancipation burial practices, includig upright pipes (symbolizing the path between the worlds of the living and the dead), ocean shells as grave ornaments and text containing upside down or backwards letters (as used in some West African cultures to signify death). Today, Olivewood Cemetery remains as a key historical site in Houston, serving as a testament to the foresight and perseverance of the cemetery founders.
Historic Texas Cemetery 2006
Marker is Property of the State of Texas